Bass fishing
Bass fishing in rivers around Jacksonville Fl.
We were ask about Bass fishing by Brian Winston
(Jacksonville Florida United States)
Brian's question was:-
I just wanted to know what rivers can you catch bass in using artificial lures in Jacksonville Florida.
Thanks for the Question Brian,
As you probably know the Sunshine State is counted as the Bass fishing Capital of the world.
Jacksonville – as you may know, is divided in two by the St. John's river
This river has many tributaries flowing into it, these include –
Alexander Springs Creek
Arlington River
Black Creek
Broward River
Doctors Lake
Dunns Creek
Econlockhatchee River – Little Econlockhatchee River
Julington Creek
Lake Jessup
Ocklawaha River
Ortega River
Cedar River
Pablo Creek
Salt Springs River
Sisters Creek
Trout River
Rice Creek
Ribault River
Little Trout River
Wekiva River – Little Wekiva River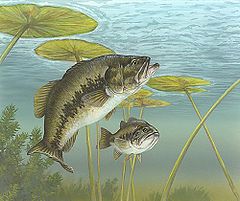 The waterway systems holds Largemouth Bass and as for the most popular artificial lures for catching them
If you want to get started off simplly with just a handful of lures, then you should include a couple of these more popular artificial lures for Bass fishing:
Zara Spook – by Heddon
Senko – by Gary Yamamoto Custom Baits
Floating Worm – by Yum
Superfluke – by Zoom
Torpedo – by Heddon
Buzz Bait – by Lazer Eye
Pop-R – by Rebel
Tournament Frog – Excellent for casting in and around lily pads, reeds, matted grass and fall downs.
Spinner Bait – A spinner bait is one of the most versatile Bass baits.
Once again thanks for the question Brian.
P.S. If you get out on the water and catch some bass please come back and leave a couple of pictures of your catch and the lures you had success with.
Until then "Tight lines and wet nets"